Reporting & Charting Module
Report generation and customizable management reports
goCASE offers a very flexible yet robust reporting capability. The reporting module offers a rich list of reports grouped by operational requirements (investigative purposes, management, statistics, etc.) Each report has two presentations: a data-oriented form that enables users to group, reorder and drill-down in the result set as required; and formal forms for printing. The graphic representation of data assists analysts/users to further analyze and assess the trends and patterns in investigative processes.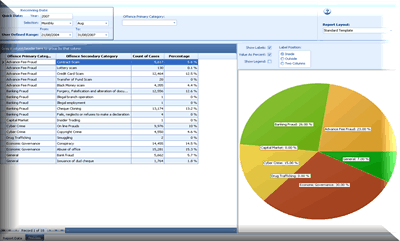 Security and Audit Trails
Detailed audit trail ensures data integrity
goCASE implements multiple security layers to eliminate unauthorized access to the application and to enforce data integrity. Assignment of different roles in the case investigation processes to different groups ensures efficiency in investigation processes. Access to goCASE is based on individual and group privileges permitting only authorized users to access different levels of information.
goCASE maintains comprehensive audit trails to track all activities in the Workflow History Log for each case using timestamps and user IDs, logging the names of individuals who have changed any information on the case and the time the changes were made.
Message Board
Automatic alerts notify and escalate case activities to the right people at the right time
Case officers receive alerts when an action is taken and that action has progressed through the case cycle workflow, eliminating the need for a manual paper chase and follow up. This speeds up the entire case management process.
Notifications and alerts are sent to Case Resources (Case Manager, Case Officers, etc.) by email and directly to the Message Board in the goCASE portal to ensure that cases are followed through quickly and efficiently. Case conclusions are also automatically reported to management with links to the case files.
Integrated Workflow Engine
All necessary modules in one product allow to work in a fully efficient and collaborative environment
goCASE's built-in Workflow service drives the case life cycle according to established standard operating procedures within the agency and enables case resources to work in a fully collaborative environment.
Easy to configure by the system administrator.
Permission to execute WF steps can be assigned to roles, groups of users, or individual's.
Notifications to the WF step owner.      
History of all steps is maintained and available in the WF History Log
Revert back to previous WF step.
Jump from one WF cycle to another (reduce complexity)
Attach case documents during the execution of the WF steps for more efficient handling by the  recipient.